GARTNER REPORT
Hype Cycle for Emerging Technologies 2022
Der neue Gartner® Hype Cycle™ beschreibt aufkommende Technologien, die in den nächsten zwei bis zehn Jahren die Wirtschaft und Gesellschaft beeinflussen werden.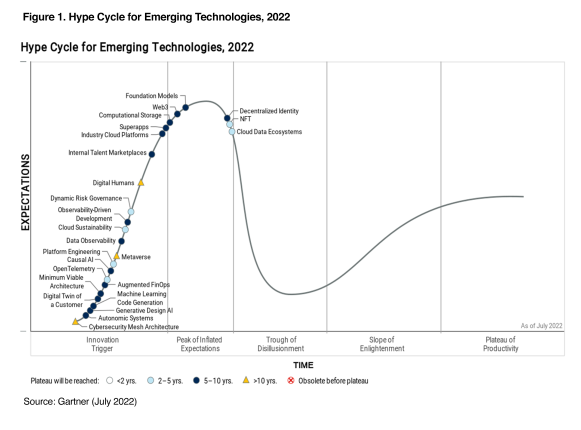 Gartner Hype Cycle herunterladen!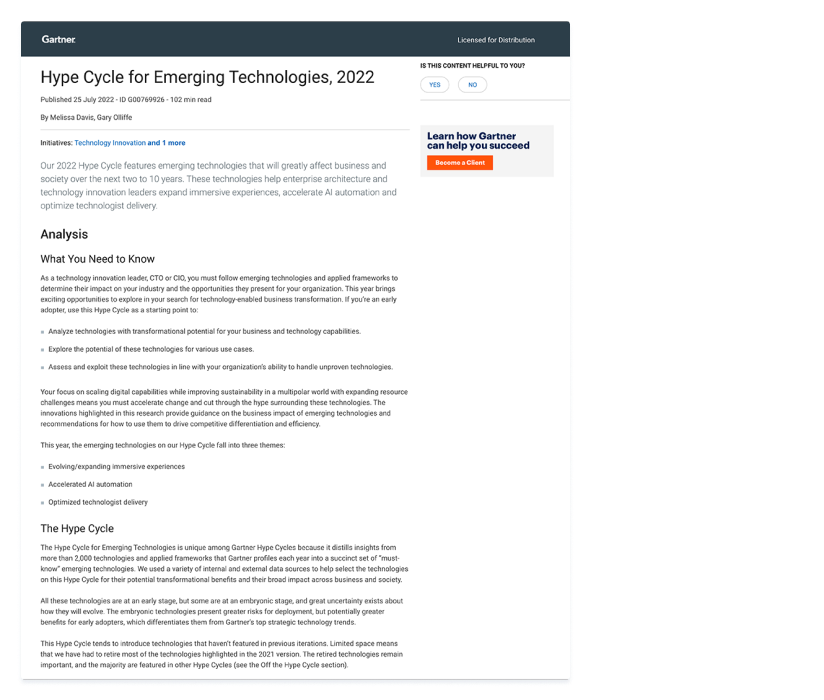 Disclaimers
Gartner, Hype Cycle for Emerging Technologies, 2022, Melissa Davis, Gary Olliffe,25 July 2022

Gartner and Hype Cycle are registered trademarks and service marks of Gartner, Inc. and/or its affiliates in the U.S. and internationally and are used herein with permission. All rights reserved

This graphic was published by Gartner, Inc. as part of a larger research document and should be evaluated in the context of the entire document. The Gartner document is available upon request from [insert client name or reprint URL].
Übersicht
Laut Gartner: "Als Technologie-Innovationsführer, CTO oder CIO müssen Sie aufkommende Technologien und angewandte Frameworks beobachten, um deren Auswirkungen auf Ihre Branche und die damit verbundenen Chancen für Ihr Unternehmen zu ermitteln. Dieses Jahr bietet aufregende Möglichkeiten, die Sie im Rahmen der technologiegestützter Business Transformation ausloten sollten."
ITONICS, führender SaaS-Anbieter für Innovationslösungen, unterstützt Kunden wie adidas, Intel, Johnson & Johnson oder KPMG mit einer End-to-End-Plattform für Innovationsmanagement. Unsere KI-gestütztes Innovation OS hilft dabei, relevante aufkommende Technologien, Trends und Marktchancen zu identifizieren, zu beobachten und in Wachstumsstrategien umzusetzen.
In diesem Gartner Hype Cycle:
Entdecken Sie die wichtigsten neuen Technologien und Trends, die Ihr Unternehmen beeinflussen werden.
Lernen Sie die drei übergeordneten Themen des Hype Cycle kennen, die Sie im Jahr 2022 und darüber hinaus im Blick behalten sollten
Thema 1: Evolving and Expanding Immersive Experiences
Thema 2: Accelerated AI Automation
Thema 3: Optimized Technologist Delivery