ITONICS als Teil des Gartner Hype Cycle für Enterprise Architecture
by Sophia Hübner, on Aug 9, 2018 4:33:00 PM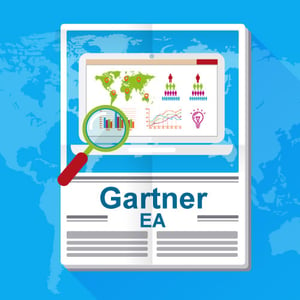 Der kürzlich von Gartner veröffentlichte Hype Cycle für Enterprise Architecture 2018 befasst sich mit verschiedenen technologiegestützten Geschäftsmodellen und Lösungen innerhalb der heutigen Unternehmensarchitektur. Gartner betrachtet dabei vier Phasen: On the Rise (z.B. Trendspotting, Human-Centered Design, Customer Journey Analytics), At the Peak (z.B. Security Architecture, Design Thinking, Digital Twin), Sliding Into the Trough (z.B. Digital Business Transformation, Information Architecture, EA Governance) und Climbing the Slope (z.B. Architecture Roadmaps, EA Frameworks).
Lösungsanbieter für Continuous Planning & Architecture Roadmaps
ITONICS wird im Rahmen von Continuous Planning and Architecture Roadmaps als Software- und Lösungsanbieter genannt. Gartner führt weiter aus, dass es in der heutigen Unternehmensarchitektur mehr um technologiebasierte Geschäftsmodelle und Lösungen geht als um einzelne Technologien, wobei alles einem kontinuierlichen Wandel unterliegt. Falls Sie ein Kunde von Gartner sind, können Sie den kompletten Bericht hier herunterladen.
Bereits 2017 wurde ITONICS in den "Market Guide for Innovation Management Tools" von Gartner aufgenommen.
Über Gartner
Gartner ist eine der weltweit führenden Firmen für Marktforschung und Beratung zu IT-Themen. Die Forschungsergebnisse helfen Unternehmen dabei, den passenden Anbieter für ihre speziellen Anforderungen auszuwählen.