brand eins & Statista setzen ITONICS auf die Bestenliste der Berater 2020
by Anica Spieler, on Mar 26, 2020 10:15:14 PM
ITONICS - eine der besten Unternehmensberatungen in Deutschland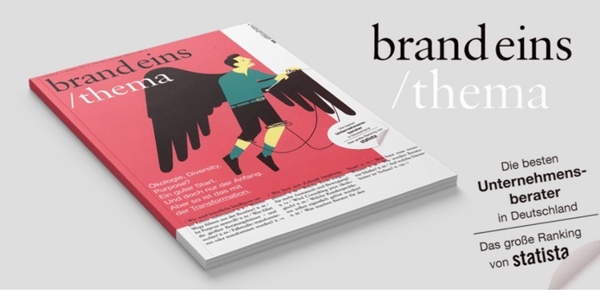 Wer sind die besten Berater des Landes? Zum siebten Mal in Folge hat das Wirtschaftsmagazin brand eins in Zusammenarbeit mit Statista den Markt analysiert, um Ihnen heute die besten Berater Deutschlands 2020 vorzustellen. Aus 20.000 Unternehmen konnte sich ITONICS | Shaping Innovation erneut auf dieser Bestenliste in der Kategorie "Innovation & Wachstum" positionieren. 308 weitere Unternehmen schafften ebenfalls den Sprung in die Rangliste. Auf der interaktiven Karte können die ausgewählten Unternehmen direkt miteinander vergleichen und nach 16 verschiedenen Branchen und 18 Arbeitsbereichen angefiltert werden.
Die Liste der besten Unternehmensberatungen basiert auf einer Experten- (Partner und Projektleiter von Unternehmensberatungen) und Klientenbefragung. Für die Expertenbefragung wurden 7.234 Partner und Principals von Unternehmensberatungen als Teilnehmer der Expertenbefragung identifiziert. Dieser Umfrage folgte eine weitere Interviewrunde, an der 1.350 leitende Angestellte teilnahmen. Zusätzlich zu diesen Interviews wurden 230 Führungskräfte (Head of Strategy, Head of Business Development etc.) aus DAX-, M-DAX-, S-DAX- und Tec-DAX-Unternehmen gezielt recherchiert und ebenfalls zur Teilnahme an der Befragung eingeladen. Alle Befragungen wurden online und offen durchgeführt, d.h. es gab keine Vorgaben von Unternehmensberatungen.
Insgesamt setzt sich diese Liste der Besten Berater Deutschlands ausschließlich aus Unternehmensberatungen und Beraternetzwerken zusammen, die hinreichend häufig empfohlen wurden oder gute Bewertungen erhalten haben. Eine Listung des eigenen Unternehmens ist daher in jedem Fall eine Auszeichnung und ein positives Votum des Marktes, weshalb wir von ITONICS besonders stolz darauf sind, uns erneut auf dieser Bestenliste positionieren zu können.
Haben wir Sie neugierig gemacht, um möchten Sie mehr über die Beratungsleistungen von ITONICS erfahren? Dann informieren Sie sich über unser Innovation Management Framework oder kontaktieren Sie direkt unsere Beratungsexperten via E-Mail.