Spannende Themen auf dem "Strategy and Innovation World Forum 2017"
by Sophia Hübner, on Feb 22, 2017 4:59:00 PM
Wir waren inmitten eines Forums spannender Menschen, die eine Leidenschaft verbindet: Innovation. Am 1. und 2. Februar waren wir auf dem Strategy and Innovation World Forum in London als Partner vertreten. Große Konzerne, Unternehmensberater, Agenturen sowie Ein-Mann-Unternehmen diskutierten die bunte Welt der Innovation in allen Facetten. Genau dieses Ziel verfolgt das World Forum Disrupt. Es sieht sich als Plattform für Strategen und Innovationsexperten, die sich leidenschaftlich über Ideen und Erfahrungen austauschen.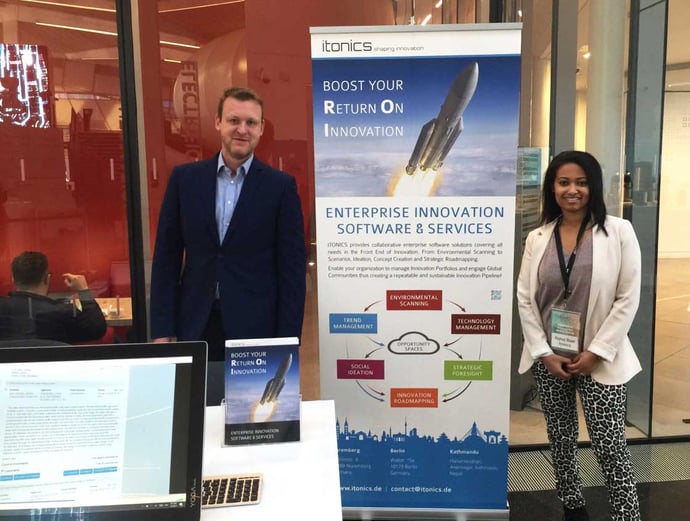 Speaker aus aller Welt teilten ihr Wissen. Beispielsweise erklärte Francine Stevens, Director of Innovation bei Vodafone, wie man eine Kultur der Innovation in Unternehmen etabliert. Olesya Moosman von Twitter veranschaulichte die stets wachsende Bedeutung von Videos. Sandeep Raithatha von BT, einer führenden Firma für Kommunikationsdienstleistungen, präsentierte Möglichkeiten gemeinsam mit Start-ups zu innovieren.
Weitere spannende Themen waren:
Building Customer Centric Strategy

Corporate Disruption

Strategic Planning in Todays Environment

Open Innovation

Digital Disruption

Customer Led Innovation
und viele mehr.
Die interaktiven Workshops und Paneldiskussionen waren nicht nur lehrreich, sondern machten auch großen Spaß. Besonders wertvoll waren die einzelnen Begegnungen und die vielen Gespräche mit den Besuchern. Wir freuen uns durch unsere Partnerschaft das Strategy and Innovation World Forum mit ermöglicht zu haben.
Für alle, die nicht dabei sein konnten, empfehlen wir einen Blick auf die Website des Forums, auf der alle Präsentationen angeschaut werden können:
http://www.worldforumdisrupt.com/strategy-innovation-london-2017/on-demand/