Gartner EA & Technology Innovation Summit
by Sophia Hübner, on Apr 12, 2019 5:55:00 PM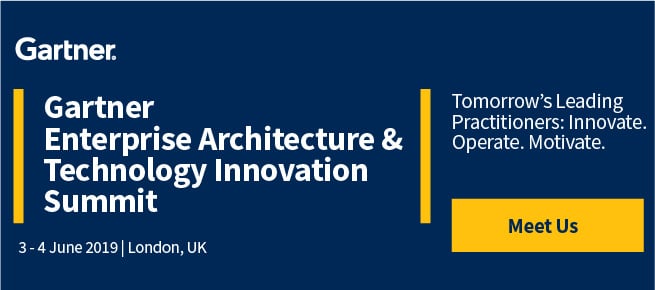 3. - 4. Juni, London | Gartner Enterprise Architecture & Technology Innovation Summit
Die digitale Transformation ist hier
Die heutigen Geschäftsmodelle ändern sich rasant. Dies bedeutet auch einen großen Wandel für Business Architects und Technologie-Innovationsführer von der Technologie hin zur Strategieentwicklung. Heute spielen noch zu viele EAs eine unterstützende und beratende Rolle, anstatt das digitale Geschäft voranzutreiben und an Führungsentscheidungen aktiv beteiligt zu sein. Bei ITONICS sehen wir kontinuierliche Innovation und die Beobachtung digitaler Trends und neuer Technologien als ein Schlüsselelement für den digitalen Geschäftserfolg.
ITONICS kann Ihnen das Tool zur Verfügung stellen, um Sie an den Entscheidungstisch zu holen. Wir zeigen Ihnen, wie man:
digitale Geschäfte mit Hilfe strategischer Technologieportfolios

vorantreibt.

effizient und effektiv in neue und bestehende Projekte investiert.

Strategie und Innovation zentral kombiniert und wegweisende digitale Wachstumschancen schafft.

Entscheidungsträger und Stakeholder überzeugt und die Zukunft des Unternehmens aktiv mitgestaltet.
Verpassen Sie auf keinen Fall:
Treffen Sie uns auf dem | Gartner Enterprise Architecture & Technology Innovation Summit in London. Vom 3. bis 4. Juni zeigt unser Expertenteam Best Practices und gibt Live-Einblicke in die Innovations- und Strategiesoftware von ITONICS. ITONICS CEO Dr. Michael Durst, der im Bereich IT-Architektur promoviert hat, wird in einer einstündigen VIP-Lunch-Session Best Practices zum Thema "How the CIO can become a Driver of Change" diskutieren.
Zögern Sie nicht, uns vorher zu kontaktieren. Wir freuen uns auf interessante Gespräche und eine tolle Zeit mit Ihnen auf dem diesjährigen Gartner EA Summit. Vereinbaren Sie einen persönlichen Termin vorab und besuchen Sie uns an unserem Stand!
Ihr Innovationsteam vor Ort:
Dr. Michael Durst

CEO & Gründer

Sebastian Pfingsten
Director of Sales




Christian Resch
Product Manager

Alexander Kruczek
Sales Manager